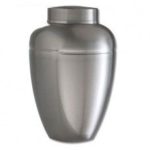 Pet Cremation is an aftercare option where the body is incinerated in a crematory furnace. Cremation for pets is typically arranged through your vet's office, as they often have professional connections to pet crematories and experience in making the arrangements for such an event. Some pet owners choose to arrange their pet cremation directly with a local pet crematorium.
Most pet crematoriums offer communal cremation whereby pet ashes are not returned to the pet owner, however many pet owners opt for a private cremation. With private pet cremation, the ashes from your pet are returned to you. Furthermore, some pet crematoriums offer witness cremations that allows you to be present for your pet's cremation. It's important to chose a reputable crematorium for a private cremation, as sometimes lower end/disreputable crematoriums will incinerate more than one pet together, or not return your pets ashes but instead will mix it up with another pet's. If you're present for the cremation, you have the ability to secure your peace of mind by being able to view the process to ensure it's your pet and your pet alone being cremated.
After the cremation is complete, the pet ashes are collected and returned to the owner in a plastic bag, container or pet urn. There are numerous companies out there that specialize in providing decorative urns, tins, or boxes for pet remains – or they can be purchased usually from the crematorium. Keep in mind, these are an extra cost. Private cremation costs range from about $100 to $300 and costs are calculated by the size/weight of the pet at the time of its passing.
If you'd prefer to not receive your pet's ashes, you can opt the community cremation. In community cremation, your pet along with other pets and animals are cremated at the same time. This option is cheaper, at about $50 to $150 depending on the weight of the pet at the time of its passing, and it is not possible to receive your pets ashes back once the decision has been made.
Cremation is an increasingly popular option in the aftercare of the remains of pets and humans alike. With cremation, you have the option to keep your pet always with you and keep their memory alive. Ashes also have numerous options for memorializing. Glass vases, diamonds, and jeweler can all be created as keepsakes and are made from just a small amount of ashes from your pet's cremation.
To Find Service Providers in Your Area
---
When you need immediate help with the death of a pet, searching for pet aftercare can be stressful. PetAftercareSEARCH.com can help you find service providers for pet pickup, pet burial and pet cremation. For pet owners searching for end-of-life assistance for their animal, pet euthanasia services can be found at Pet Aftercare SEARCH.